Music plays an integral and vital role in parish life. Music has the power to comfort, uplift, sustain faith and give renewed hope to our daily lives as it works to support our parish liturgies that are celebrated on a regular basis. St. Philip Parish Community is blessed to have several music ministries that carry out this mission.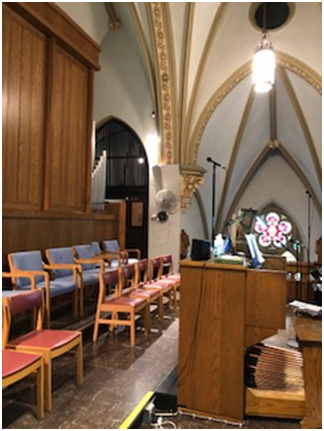 Adult Parish Choir at St. Philip
At the present time, our parish choir is formed from our 'merged parishes' from the former Holy Innocents (Sheraden), Guardian Angels (Crafton Heights), Ascension (Ingram) and St. Philip (Crafton). We comprise a variety of ages, occupations and backgrounds – but love of God, liturgy and music is what unites our choir members into a cohesive group that works well together.
We sing a variety of liturgical music from Taize-style, chant, to classical and contemporary. We sing music that is unison (melody), 2-3 part harmonies, SATB (soprano-alto-tenor-bass). Our choir is 'on-duty' to sing every Sunday at the 11:00am Mass at St. Philip Church from mid-September through Corpus Christi and for all major liturgical events during the year. We rehearse every Thursday evening at Ascension Church from 7:00pm – 8:30pm.
Singing can provide an emotional, cognitive, social and spiritual outlet for each person. It is a way to deepen one's prayer life and give service to God and to our parish community. Improved health is also a benefit of singing.
Please consider joining our Adult choir. New members are always welcome! All that is required is a love of God and a willingness to learn. For more information please contact Beth Barsh, Music Director at (412) 979-1880.
Cantor
Our cantors help to guide us through our parish liturgies as they announce hymn numbers, lead congregational singing (but never overshadowing the assembly's response!) and as they gesture to us to elicit a sung response from the congregation during liturgy. Cantors also function as 'psalmist' as they sing the responsorial psalm after the First Reading. Our cantors also serve at funeral and at wedding liturgies.
Our parish cantors minister at both St. Philip and at Ascension Churches. In general, our cantors sing about once every three weeks. They follow a rotating schedule and serve at all weekend Masses (except the 7:00am Sunday Mass) and at all major liturgical events during the year. You will see our cantors in action at the 4:00pm and 5:30pm Saturday Vigil Masses and at the 9:00am, 9:30am and 11:00am Sunday Masses during the weekend. Music / MP3 files are provided.
We are always in need of cantors!! All that is needed is:
A pleasant singing voice
A willingness to learn
Being able to cantor at both at St. Philip and Ascension Churches
Being able to follow a rotation schedule to serve when needed at all weekend liturgies
Our cantor team is very supportive of each other and is dedicated in their preparation and learning of their music. Please consider sharing your love of God, liturgy and singing by joining our cantor team. For more information, please contact Beth Barsh (Music Director) at (412) 979-1880 or st.philipmusic.crafton.pgh@gmail.com.